Residential and commercial HVAC Terminology can be challenging to understand – many people are even unaware that HVAC stands for Heating, Ventilation, and Air Conditioning. With so many things competing for our attention these days, learning industry-specific terminology may not be a high priority; so, we will make it easier for you. Today, we define Air Handler.
Have a heating, cooling, or plumbing problem, but no time to wait for a repairman? Need a second opinion on an existing quote?
We'll give you free advice about your question or problem. In many cases, you'll get an estimate or the help you need during the video call.
Free Over-the-Phone Evaluation
Air Handler
The air handler is an important part of your air conditioning equipment, circulating conditioned air throughout your home. Your central heating and cooling system consists of two main parts, an outdoor unit and an air handler, which is the indoor unit. When matched with a heat pump, it circulates both cool and hot air, depending on the season. With properly a sized air handler, your home has the right amount of clean, comfortable air all year round; the more efficient your air handler is, the less work your outdoor unit has to do to make your home comfortable.
How it works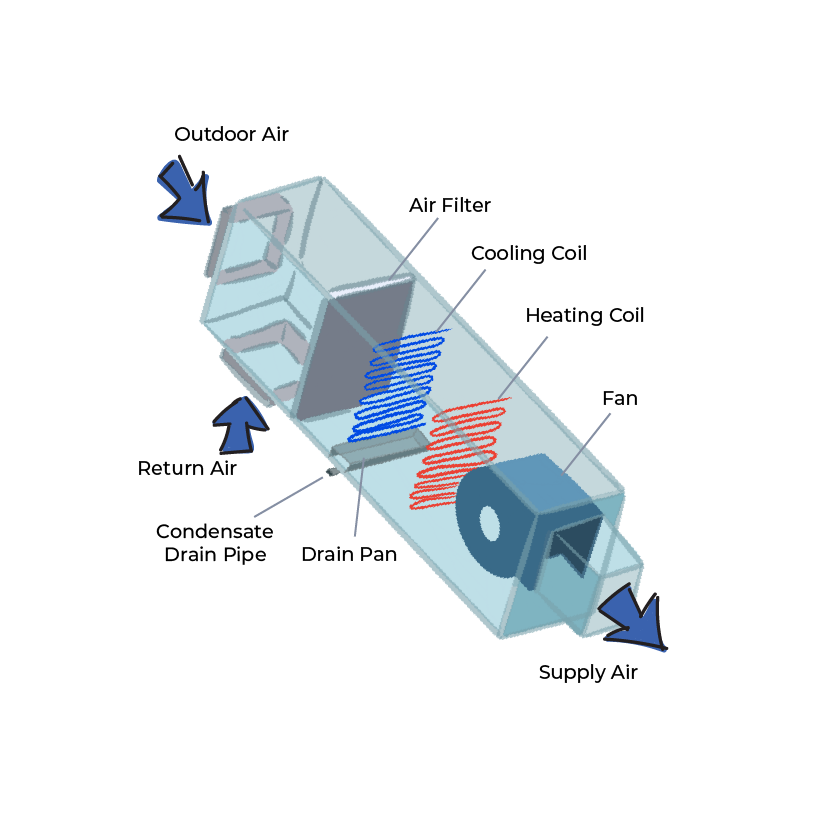 An HVAC air handler uses a blower to remove air from the home, push it through a heat exchanger, and distribute conditioned air through the duct system, and into your house. The forced air system uses a modified form of convection heat where currents rise off a hot surface. The air handler forces air through the hot elements to direct the convection currents to the desired area.
Central air conditioning, forced air furnaces, and heat pumps all use air handlers in which a single air handler is usually responsible for both heating and cooling. The air handler includes a filter that removes particulate material from the air as it passes through. When operating as an air conditioner, the circulation of air through the cold coils in the unit by the air handler lowers the temperature and reduces the humidity inside the building.
To get additional information or have a Commercial Service technician assess your HVAC system, schedule an appointment with our easy Online Scheduling or by calling 812-339-9114.