Factors to consider before purchasing a new furnace
With cold weather on the horizon, you may be wondering if your current heating system can withstand the change in temperature. Now may be an ideal time to invest in a new furnace for your home before that dreaded weather arrives. We've prepared an overview of everything you need to know before you make your big purchase.
Types of furnaces
There are numerous furnaces on the market, all which run on different types of energy. It's important to explore the differences between each of the categories and how they can work best with your home.
Natural gas furnaces
The most common type of furnace in Indiana homes is powered by natural gas. These furnaces work by igniting natural gas which then heats up the heat exchanger. The heat exchanger within the furnace warms up incoming air and the blower then circulates the warmed air through a home's ductwork. Gas furnaces are favored in much of the United States due to their even heating abilities and low cost to run.
Have a heating, cooling, or plumbing problem, but no time to wait for a repairman? Need a second opinion on an existing quote?
We'll give you free advice about your question or problem. In many cases, you'll get an estimate or the help you need during the video call.
Free Over-the-Phone Evaluation
Electric furnaces
Not all homes are equipped with gas lines, which is why electric-powered furnaces are another popular option for heating your home. Electric furnaces are one of the cheapest options on the market to purchase, easiest to install, and often times last up to 10 years longer than their counterparts. Unfortunately, electricity is a more expensive utility compared to gas, so you'll pay that difference every month in your energy bill. This difference is often about 2.5 times higher than natural gas prices.
Oil furnaces
While not as common as natural gas, oil furnaces rely on oil for fuel. You'll often find homes with oil furnaces in colder environments. This type of furnace is also slightly less efficient than natural gas furnaces, but the initial upfront cost is lower. Compared to natural gas furnaces, oil furnaces cost roughly 25% less to purchase, but you'll pay about 10% more in energy bills to heat your home.
Gas/Propane
Oil
Electric
40k-160k BTU/h
60k-160k BTU/h
10k-30k Kilowatts
$2,400 - $7,000
$3,500 - $10,000
$2,000 - $4,000

Low cost to run (even heating)

Low initial cost
Good for colder environments

Unstable fuel costs
High maintenance

Easy installation
Low initial cost
Long-lasting

Expensive to run
Increased energy bill
What to consider before you buy a new furnace
Size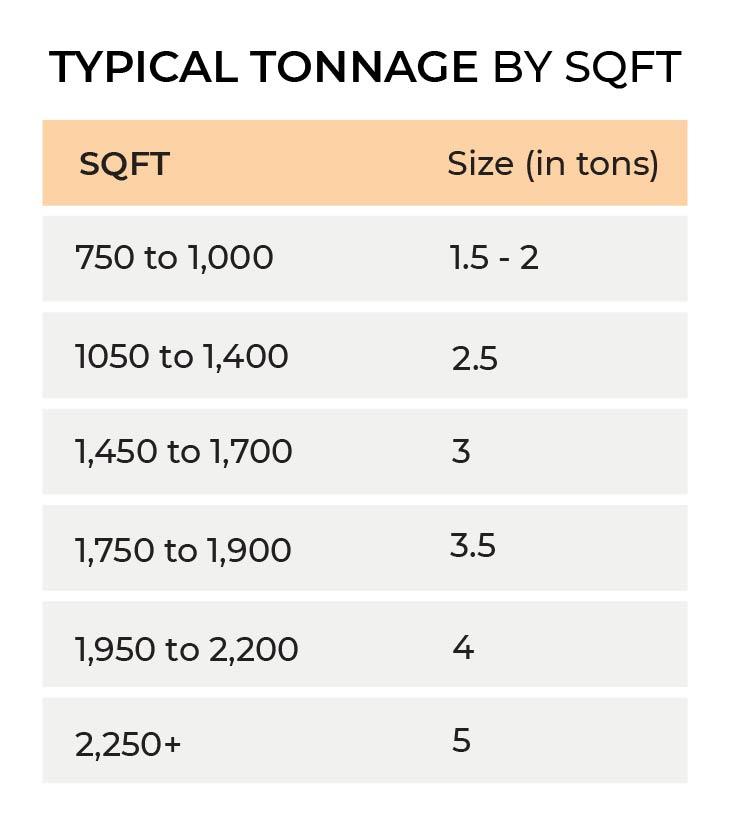 In order to get the most out of your new furnace, size plays a crucial role. And by size, we're actually referring to two measurements: BTUs and tonnage. A BTU (British Thermal Unit) is the amount of heat needed to change a pound of water by one degree. One ton is equivalent to 12,000 BTUs.
Most furnaces will fall between 1 and 5 tons for residential housing, while anything greater than 5 tons is generally reserved for commercial buildings. Depending on the square footage of your home, you may need more than one unit to properly warm your home. This graph provides a general introduction for how much tonnage is required for the size of your home.
72-month special financing for qualifying Trane equipment
Commercial Service is proud to be your local Trane dealer. Trane products are designed, built, and rigorously tested for reliability and durability. We know they work because they are pushed well beyond the industry standards. When you own a Trane, you're getting reliable comfort and dependable quality year after year.
Trane Financing
Efficiency
The efficiency of your furnace is often measured in AFUEs, which stands for Annual Fuel Utilization Efficiency. For example, an AFUE of 80% tells you that 80% of the energy in the fuel goes to heat for the home, while the remaining 20% escapes out of the chimney and/or elsewhere.
Maintenance
Your maintenance requirements will vary depending on the system you choose. However, most HVAC companies offer service plans that combine regular inspections and discounts on repairs, which is worth considering into the overall price of your new furnace. Commercial Service offers a Platinum Maintenance Program that can lower your utility costs, extend the life of your system, AND reduce repairs and emergency breakdowns.
When it comes to finding the best furnace for your home, exploring all the options doesn't have to be difficult—Commercial Service technicians are happy to guide you every step of the way. Schedule your new furnace quote with our easy Online Scheduling tool, or by calling 812-339-9114.
Schedule Online
Commercial Service offers 24/7 emergency services and is always happy to send over a certified technician to assess any potential problems. For non-emergency repairs, schedule an appointment with our easy Online Scheduling or by calling 812-339-9114.