Fire Features
The backyard is the traditional facilitator for all outdoor parties, bonfires, and barbecues. During these festivities, it is important to have a heat sources to keep your guests warm and comfortable. Normally, fireplaces are the go-to solution for this. The problem with traditional fireplaces is that they require a significant amount of prep time. Finding the wood and cutting it to size could take hours of your day. That's not even mentioning the smoky smell your guests will have from the fire. Fortunately, we at Commercial Service have a solution that avoids all the hassle. We will service any fire feature you have and make it the focal point of your backyard that will blow your guests away. But first, you need to know which fire feature is right for you.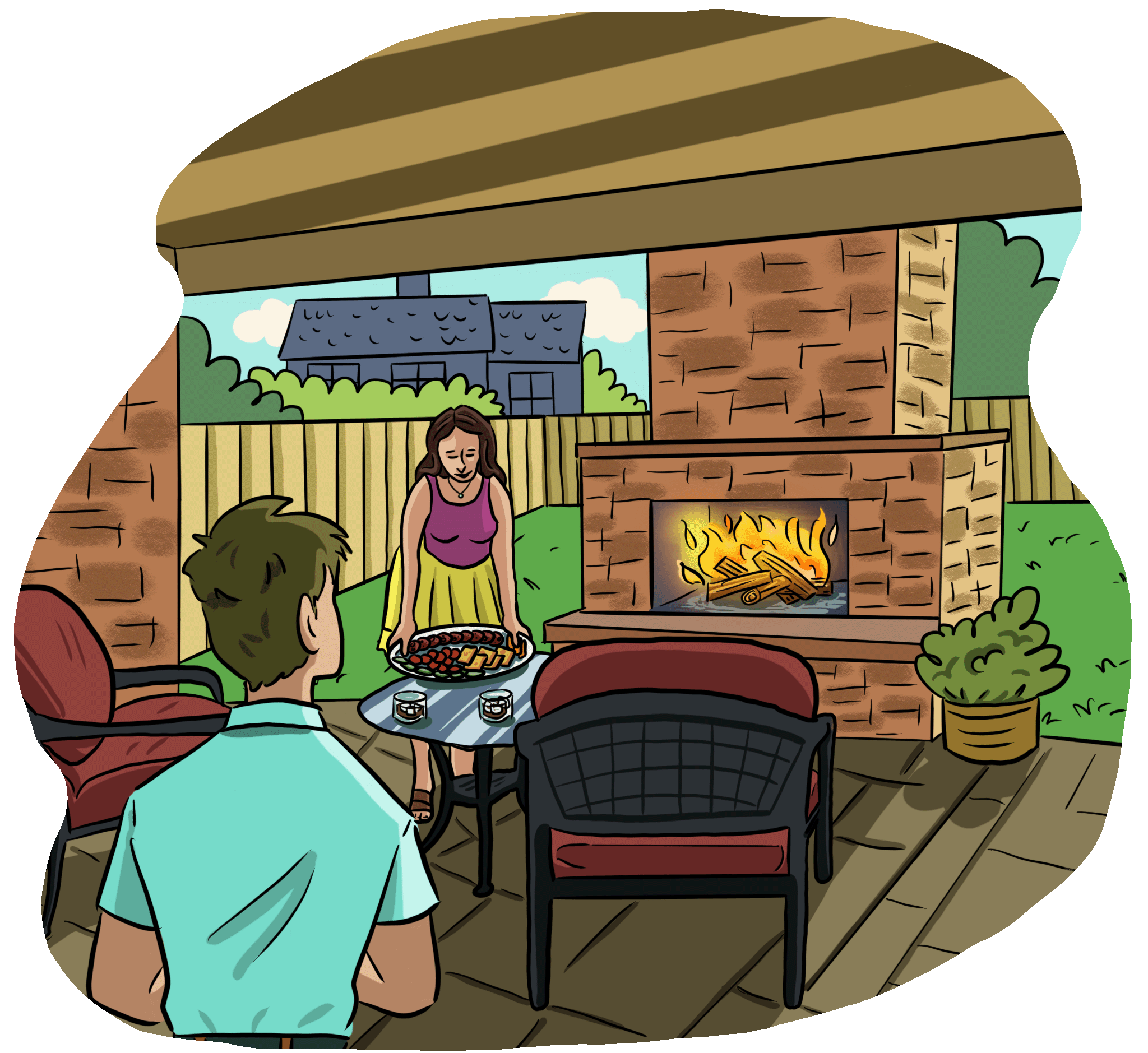 Outdoor
For outdoor fire features, there are fire pits, fire bowls, fire columns, and fire tables. All of these options bring a different style to your outdoor space depending on which design you pick. Let's break down each option you have for your outdoor fire feature.
Fire Pit
The classic fire pit doesn't just have to run on wood fuel alone. You can still get the bonfire fell with a fire pit that runs on propane, natural gas, or bioethanol. This option is a popular choice for customers because it can come in any shape, size, and style you want to fit your backyard aura.
Fire Bowls
Fire bowls are similar to fire pits, but are smaller and can be portable. Fire bowls are self contained, which means you can have one and slip past most regulations set by neighborhoods and landlords.
Fire Columns
The only difference between fire bowls and fire columns is the shape. Because columns take up less room than a bowl, they are great for smaller outdoor areas and make great indoor fire features.
Fire Tables
Fire tables are one of the most popular fire features on the market. It combines the usability of a table and the ambiance of a fire pit. Now you can eat and drink with your guests at a table with the warmth of a fire. Fire tables come in all different shapes and sizes, making them the perfect piece to stylize your backyard.
Indoor
Don't have the yard space but still want a fire feature? No problem, there are also indoor fire features to suit your needs. Indoor fire features come in the same variety as outdoor fire features, but are generally smaller and enclosed in glass of some kind.
Fuels
The different fuel types for fire features include propane, natural gas, or bioethanol. A few fire features will also use electricity instead of fuel, but the majority of those are indoor fire features.
Propane
For functionality purposes, propane is the best fuel source since it emits the most heat. You need either a hardline to run the propane or use a refillable tank to fuel the fire. The major downside of propane is having to use the refillable tanks that can be an eyesore in your stylish backyard.
Natural Gas
Natural gas is the most prized choice among the fuels as it will dissipate more quickly and the majority of homes already run on natural gas so no new system is needed. Natural gas is also the most cost effective option, which is why it is a top choice of homeowners. The downside of natural gas is that because you must run a hardline for it, it cannot be a portable fire feature.
Bioethanol
Bioethanol is a renewable fuel source that is crafted from crop plants like corn, grain, sugarcane, rice, grapes, and more. It can be utilized indoors and outdoors since it is clean and smoke free. Another reason it can be used indoors is because it gives off very little heat. Bioethanol is great for wowing your guests with your indoor fire feature, but if you are trying to keep guests warm outside, propane or natural gas is the best option.
If you want to learn more about fire features, or would like to service one, schedule an estimate online or call us at 812-339-9114