Commercial Service has been serving our community since 1946; throughout the years, we've become the go-to source for many people when it comes to HVAC and plumbing needs, but we go beyond simple business transactions. Commercial Service has experienced this success thanks to those we serve, and that's why we love to give back to our community in a variety of ways.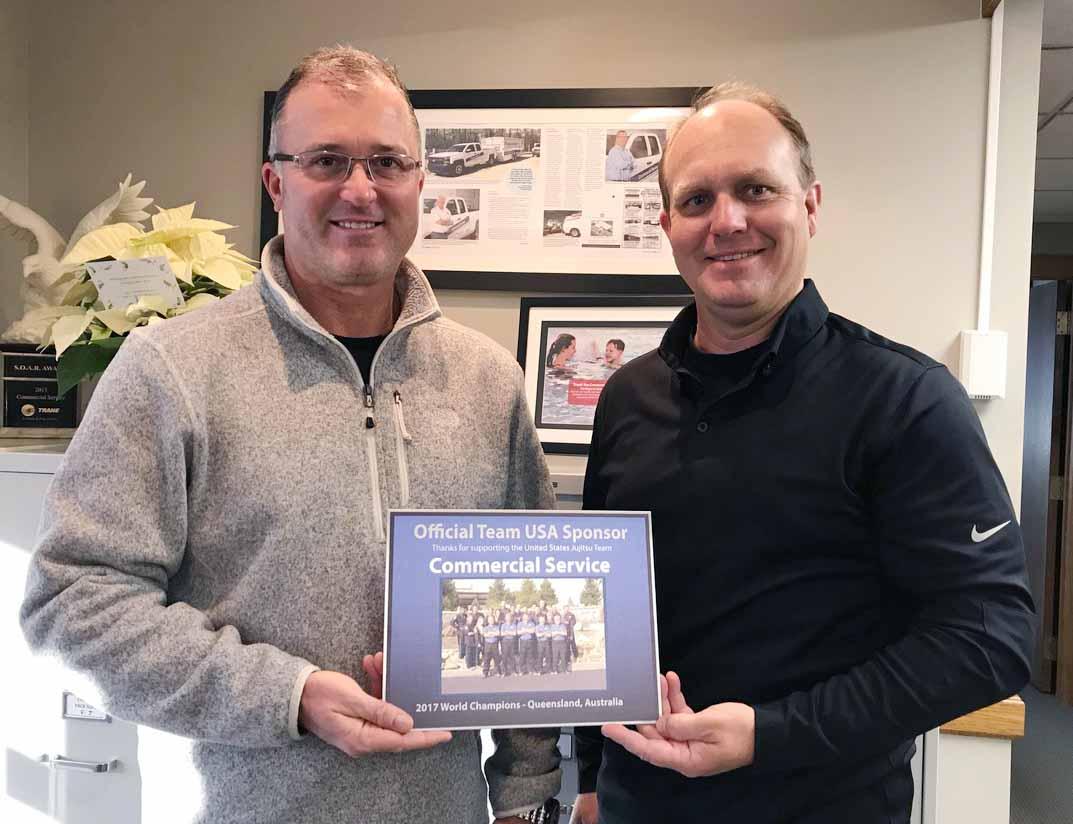 When Greg Humphrey, Commercial Service's CFO, learned that his good friend, Clint Fish, coached the American League Jujitsu team, Greg decided to get Commercial Service involved. After talking with Clint, Greg discovered during the training for the World Council of Jiu-Jitsu Organization Championship that some of the athletes were not able to afford the trip to compete in Queensland, Australia. As a result, Commercial Service became a sponsor, and helped get the full team to Australia.
After some well-fought matches, we're ecstatic to announce that Team USA was ultimately victorious, and secured the "World Champions" title! Commercial Service was also able to get a one-on-one interview with Coach Fish to learn more about the team, their win, and the sport itself.

---
Can you explain a little bit about what jujitsu is?
Coach Fish: We call it Sports Jujitsu because it's competitive. It's a full-contact sport that consists of striking, kicking, grappling, and throwing, and athletes use equipment like light-weight MMA gloves. Safety is very important. People train in Jujitsu for self-defense with the goal to defend themselves and those around them. When they compete, they tone those techniques down for safety. Sportsmanship is key.
How do you train for a jujitsu world championship?
Coach Fish: The tournament was in October, and we started building the team in June 2016. We were very selective with our athletes, and they came from all over, places like Pennsylvania, North Carolina, California, Ohio, and Florida. We had 5 coaches and 21 athletes, 16 of the athletes were men and 5 were women.
Ultimately, tournaments are fought and won based on weight classes.You can win individual weight classes, but each country sends a team to fight for the Team World Championship title. Each country chooses their best fighters in each weight class, and that team has to win 4 out of 7 rounds. The United States won both men and women divisions by winning 4 out of 7 rounds against each country.
What factors would you say positively influenced the team, and led to this year's success?
It was my first time coaching at this level, so it was a joint effort. We had diverse coaches that came from multiples states, and everyone worked hard. We brought the team together for training events, and we went to different tournaments. Finally, we were able to take the team to the US national championships. All of this hard work and collaboration led to our victory. The US hasn't been to the world championship in 7 years, so to go and win is something very special.
How did the sponsorship start?
I have been a customer of Commercial Service, and I'm best friends with Greg [Humphrey]. I told Greg that some of the athletes were struggling to raise the funds to attend the world championship in Australia, and he said he wanted to help.
What would you say makes the USA Jujitsu league and Commercial Services good partners?
They understood the importance of the US being represented in the tournament and the importance of helping young athletes. There was no hesitation when Greg realized that there were some people who needed help getting to Australia. He also remained interested throughout the process, asked questions about how the team was doing, and seemed to really want to stay engaged even after the sponsorship first started.
If people are interested in learning more about jujitsu or even joining a team, where should they go?
In Bloomington, Indiana, there is a very good school where you can learn Jujitsu, the Ryukyu Kyusho Family Martial Arts School. Indiana has several good schools, and if anyone needs help finding a school, I'd be happy to help them find one in their area.

Coach Clint Fish can be reached via email at clint_fish@yahoo.com.
If you want to learn more about Commercial Service sponsorship, contact us today by calling 812-339-9114.