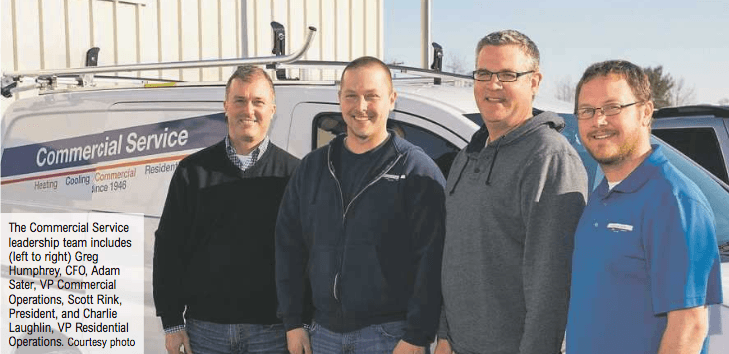 Spotlight: Commercial Service
Giving HVAC a Personal Touch
By Kasey Husk, Biznet
It's been 40 years since Mike Sonneborn first took the reins of his father's newly-acquired heating repair company, Commercial Service, as one of only five employees.
Under his guiding hand, the Bloomington company has blossomed into a multi-service HVAC—heating, ventilating and air conditioning—company that employs 75 people, all while keeping a tradition of treating customers and employees alike as "a name, not a number," said
Charlie Laughlin
, vice president of the company's residential operations division.
"The business we are today is light years from where this place started," Laughlin said. "And all of that success is from Mike's leadership and the team that he's developed. If you ask Mike, Mike will never take credit for building this company. He will tell you he's worked with a lot of great people. No one has ever worked for Mike. That's part of the culture that he's helped create."
Sonneborn stepped down as company president in October, but the culture will live on. The same care and attention to detail that Sonneborn poured into growing Commercial Service over the years went into planning for its future after his own retirement, Laughlin said. Over the last eight to 10 years, been carefully grooming the leadership team that would eventually run Commercial Service, chief among them new company president
Scott Rink
, who took over Oct. 8.
Also among the company's new senior management team are Laughlin, chief financial officer
Greg Humphrey
and
Adam Sater
, vice president of commercial operations.
"The company is operationally sound and well positioned for the future," Sonneborn said in a press release announcing the change of leadership. "I am very proud of our growth and success during my time here and am excited for the next generation to take this company even further. I have great confidence in Scott Rink and his vision for the future."
The time and care Sonneborn put into preparing the company for his retirement came as no surprise to Laughlin, who has worked there for about ten years.
"Mike has spent 40 years building this business, and building relationships, and building a reputation, and building a name in the community, and obviously wants to see that succeed," Laughlin said. He adds, "I don't think anyone who has that much passion for growing a business and seeing it be successful while he's there would ever want to walk away and not see that continue."
Founded in 1946 by Joe Hamros, Commercial Service is the oldest heating company in town. Laughlin said. It offered some of the earliest air conditioning units available, which froze ice in the evening and blew air across the ice to cool it down throughout the day. Under Hamros' ownership, however, the company remained a one- or two- man operation for the first few decades of its existence.
That all changed when Jules Sonneborn—Mike Sonneborn's father—purchased the company in 1973. The younger Sonneborn, a business school graduate, took over the company in 1975 and immediately began developing relationships with big players in town.
Today, the company services and installs HVAC units for both commercial and residential buildings with the former accounting for about 70 percent of its business, though the company's residential division has grown exponentially in the last few years according to Laughlin. As of January 2013, the company also merged with longtime partner R&S Plumbing to offer plumbing services.
Over the years, Commercial Service has developed a reputation as a company that treats its customers, its employees and the community right, Laughlin said. Many of the company's employees have stayed for 20, 30 or even 40 years, he said, "and you care about them like family."
Giving back to the community has always been important to Commercial Service leaders as well. Since partnering with
Habitat for Humanity
in the late 1980s, the company has installed the heating and cooling systems for 105 Habitat homes. It also supports the
Boys and Girls Clubs of Bloomington
and the
Monroe County YMCA
, which are causes close to the hearts of Rink and Sonneborn, respectively.
Laughlin praises Rink as a natural born leader whose people skills make him ideally-suited to step into Sonneborn's shoes.
"He's one of the busiest guys I know, but he always makes more time than anybody to talk to you about your day, about your family, about your kids," he said. "It says a lot when the busiest guy in the organization, the guy running the organization, puts that kind of emphasis on that one-on-one time with employees and clients."
Going into the future, Laughlin predicts the company will continue to keep that emphasis on having a personal touch in the future, even as it pursues "responsible growth."
"Making sure we know our clients, making sure we know our employees—I think that's an important part of the business that we run," he said.
"We could easily be a company two or three times as big as we are, but those of us who are looked to as leaders believe very strongly in a personal connection with our clients and employees and I don't think we want to lose that. When we talk about growing, that's one of the things we're very mindful of."
To schedule an HVAC and/or plumbing appointment, do so with our easy Online Scheduling or by calling 812-339-9114.